Grizzly Log Saw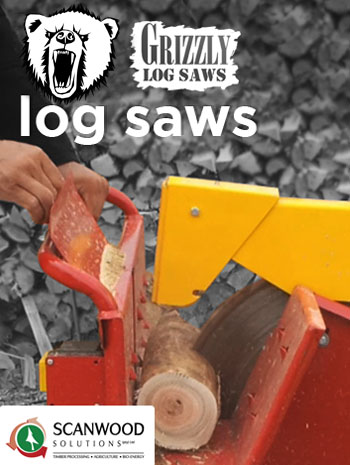 For the price of the Grizzly Log Saw, please fill out the form below.

Log saw foto of type Grizzly sold in Southern Africa



Bench saw description
Scanwood Solutions offers a range of bench saws (or log saws), all with a blade diameter of 600mm, but with different drive types. Drive types available are: Electric single phase, electric three phase, diesel drive and PTO. The Grizzly 600 bench saw is able make cuts of up to 220mm per cut - enabling the saw to saw logs of up to 280mm using 2 cuts. The Grizzly 600 has a swinging bench, which minimises the wear on the blade, by ensuring that the log is always placed square with the blade, and also it minimises the effort required to saw the log, allowing for longer operation hours and less fatigue for the operators.
Log Saw(Bench Saw) Safety
The Grizzly 600 saw bench is built based on European safety standards, and this allows the user to perform cutting operations without incurring any danger on himself. Scanwood Solutions is committed to providing its customers with log saws that, in spite of their low cost, ensures the highest levels of safety.
Location
Even though the Grizzly Log Saw (bench saw) is sold in Pretoria, Gauteng where our main office resides, we ship the log saws to anywhere in the world.
Log Saw Blade
Ø600mm
Tips: Tungsten steel
Blades also sold separately
Maximum log diameter:
280mm
Maximum log length:
Unlimited
Tip speed:
70m/second
Blade options:
Normal / Widea blade
Motor:
2.2KW single phase electric /
3KW three phase electric /
7HP diesel motor /
Yamaha Petrol Engine 4 HP/
PTO - Minimum 15KW tractor
Blade rotation direction:
Towards operator
Net weight:
134kg
Dimensions:
1450mm x 850mm x 1110mm
Warranty:
12 month warranty
Enquire about this product
© 2023 Scanwood Solutions