Sawmill Grizzly Slidetec
Mini sawmills: Sawmilling would never be the same again.
| | |
| --- | --- |
| ① | Log table |
| ② | Dosing log feeder |
| ③ | Hydraulic log handling device with log turner |
| ④ | Slipper bars for sawn timber and slabs. (When the hydraulic closing device is closed, the sawn timber is going to the conveyor to the screw chipper.) |
| ⑤ | Trimming table |
| ⑥ | Screw chipper |
| ⑦ | Crosscut saw |
| ⑧ | Drying room |
The sawmilling business can now be entered at a capital cost of a luxury car! And in three years you can actually also afford the luxury car!
One man operating the entire mill.
Circular saw mill
Three in one: head saw (for wide diameter logs), re-saw and edger.
Unique patented slide rail system saws through the table.
Safety features with CE certification.
Tough and user friendly.
Un-warping, un-bumping, un-twisting in its structure for accurate sawing.
Low noise (less than 75DB) & reduced vibration.
Multifunctional turning & positioning.
Oversized 65mm blade shaft for better blade support.
Special flanges reduce possibilities of saw blade wobbling.
High grade SKF bearing for better blade support.
Hydraulic blade guides.
Can manage frozen and hardwood species effectively.
Hydraulic dropping device & backing wheel.
Own sharpening device for carbide & satellite tips
Bark cutters and sizing devices available.
Computerized sizing system optionally available.
Strong suction and blow sawdust removal system standard.
Cross cut saw can be added to the system.
Several units can be linked to form a versatile sawmill plant.
Thin kerf, high yield.
Board thickness selection between 12mm and 300mm.
Low sawdust and waste, high yield.


Technical data:
Boom length 18 meter
Total operating width 1600mm
Table length 9m
Table width 740mm
Power: 45kW electric or 75HP PTO
Blade: 800-1200mm
Max log size: 650mm
Max log size with top saw: 765mm
Minimum log length: 1,500mm
Max log length: 11,500mm
Table speed: 0-110m/minute
Sawn lumber accuracy: <+-1mm
This is a fully Finnish made and designed system.
ALL THIS, FULLY LOADED WITH ALL OPTIONS DELIVERED TO SITE IN SOUTH AFRICA
MOBILE UNITS ALSO AVAILABLE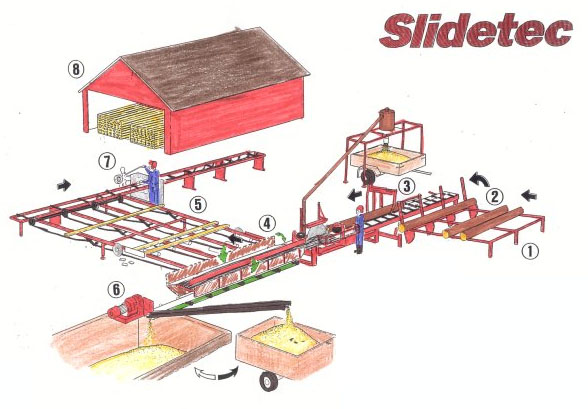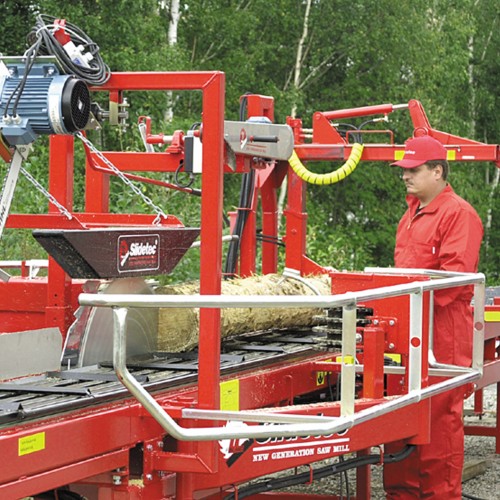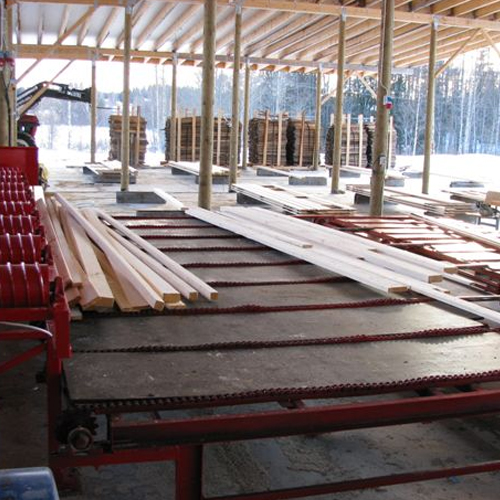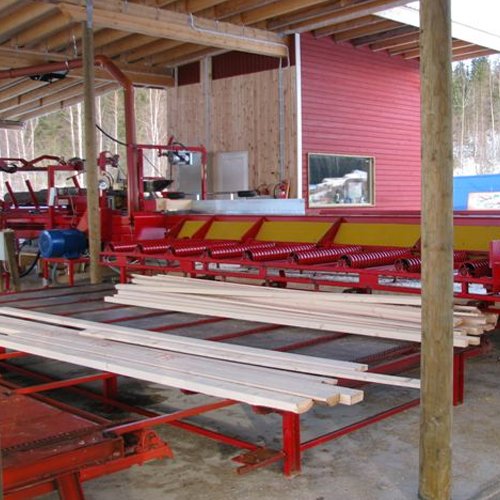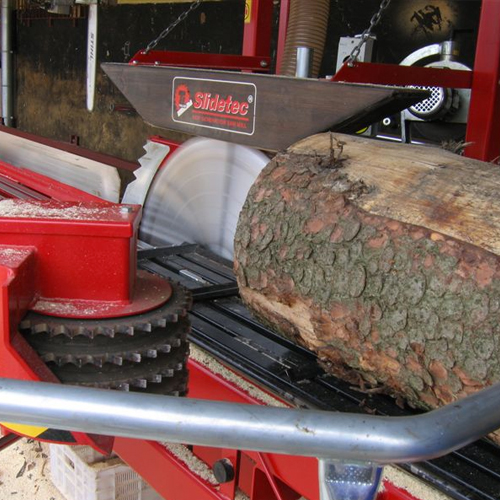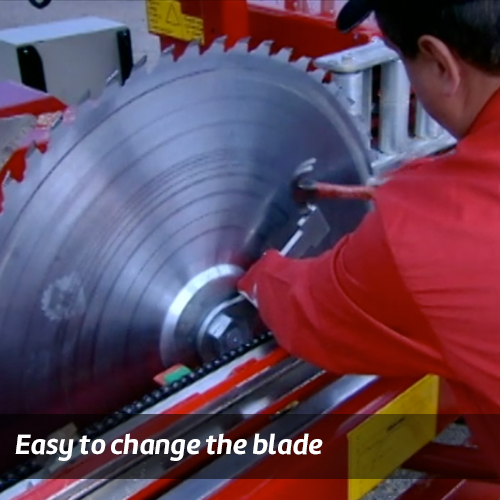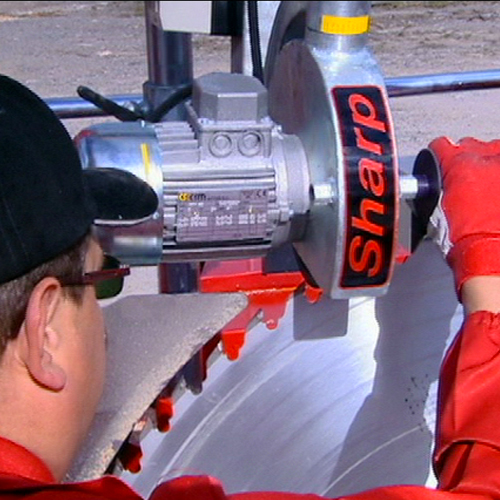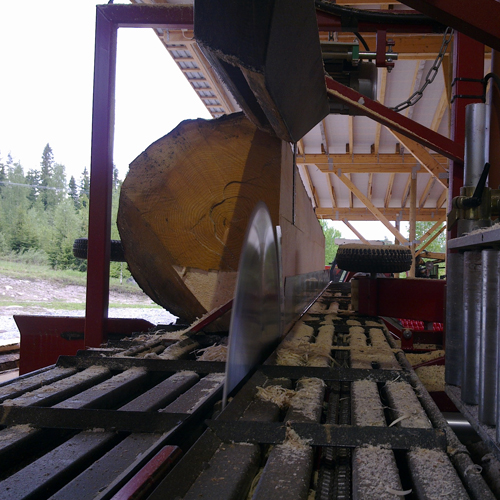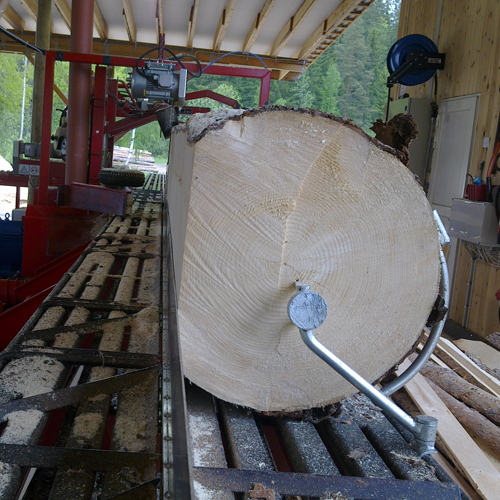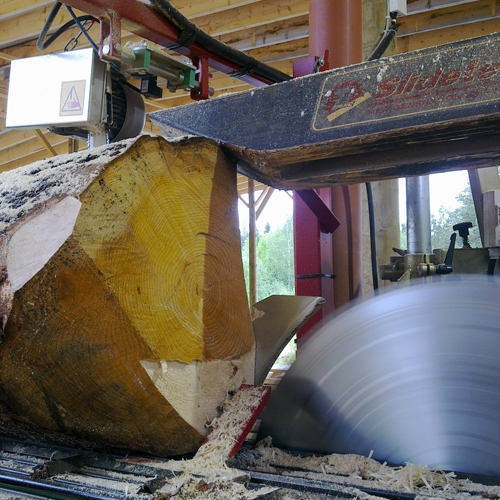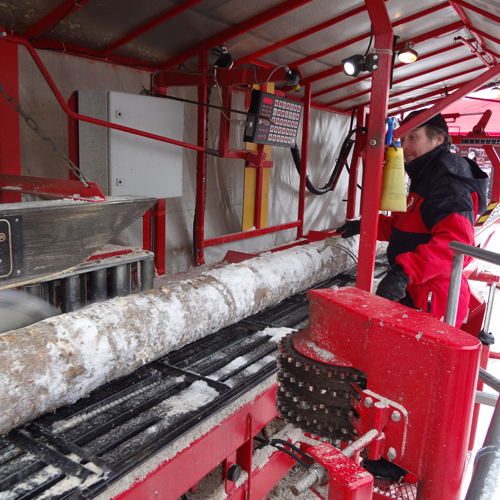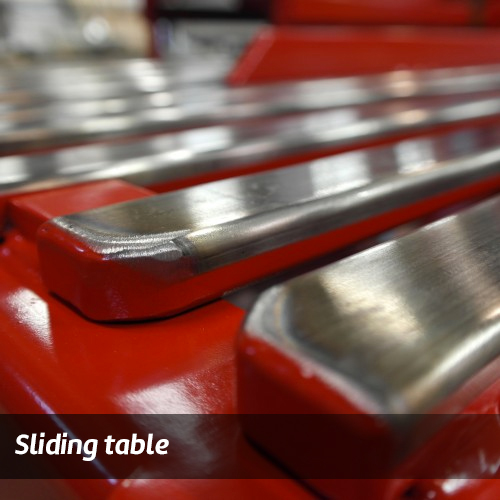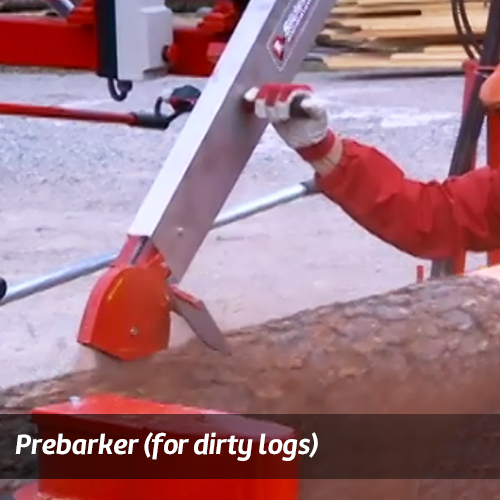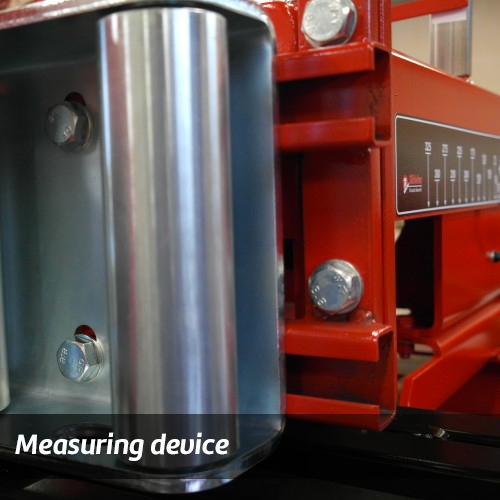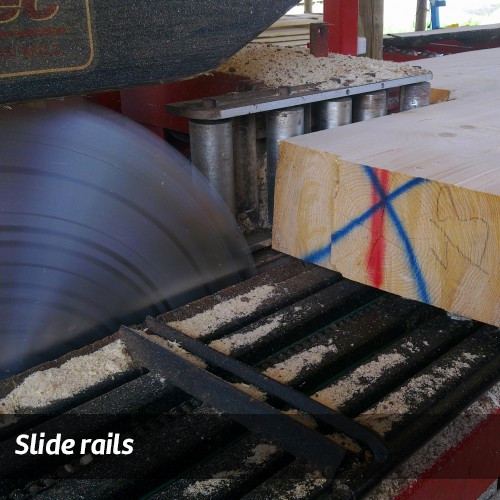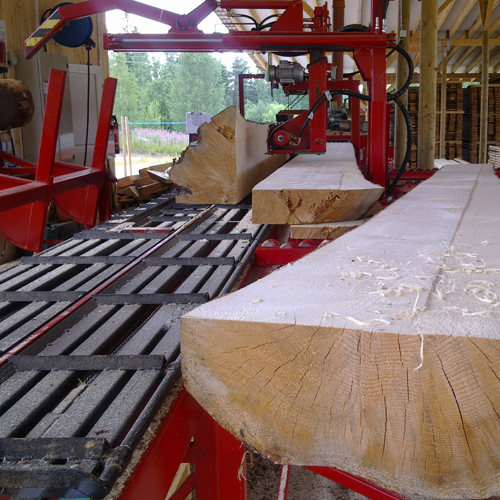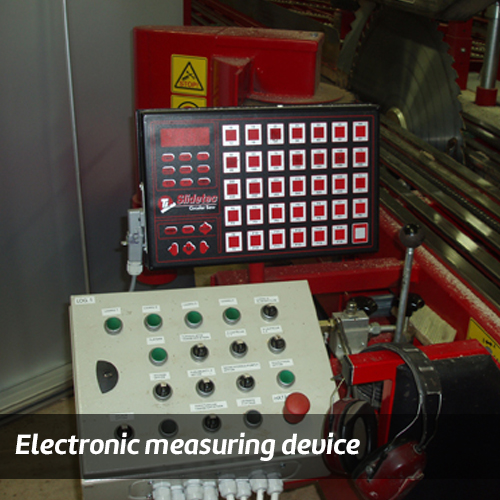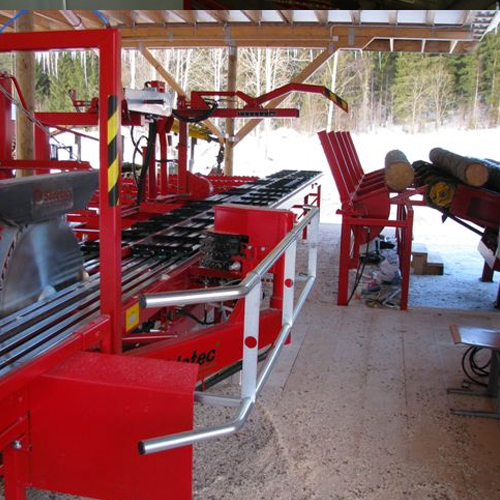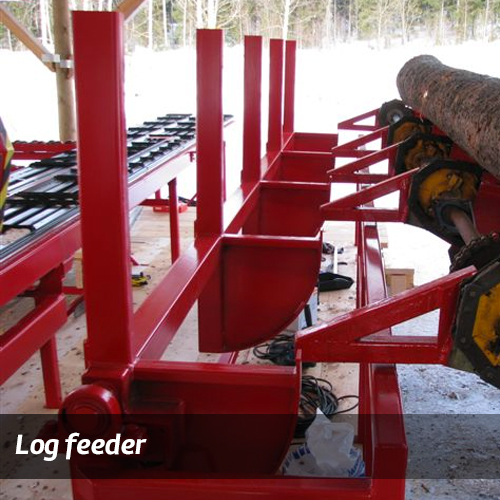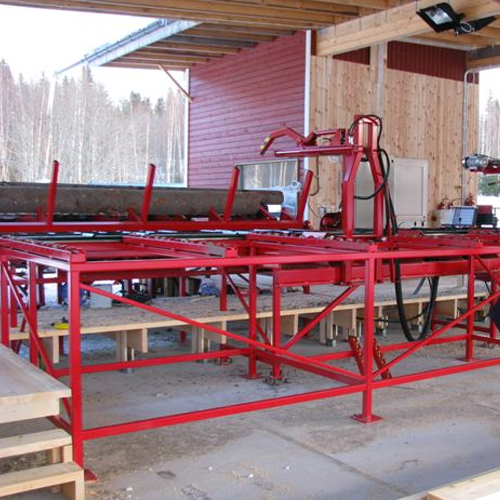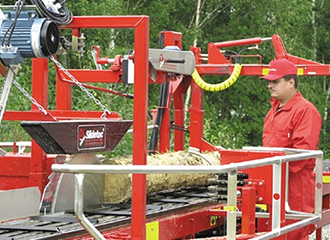 The slidetec sawmill is a system designed to allow one person to use the sawmill effectively. This sawmilling system makes use of circular saws. This sawmill is CE certified making it one of the safety sawmills sold in Africa at this time. This means that the very best safety measures were taken into account when building this sawmill.
The slidetec is a durable sawmilling machine which will last longer than traditional sawmills. The saw is also user-friendly and any person can easily operate this wood processing machinery with minimal training. The slidetec sawmill is a sawmill that includes three functions. The one function is that of a head saw, used for sawing long longs into thinner cants. The second subsystem in the sawmill is a resawer for accurate timber cutting along the grain to reduce larger sections of wood into smaller. An edger to straighten and smooth rough lumber. The slide rail in the sawmill system allows to the user to saw through the table at a comfortable pace.
The sawmill is one of the quietest sawmilling plants at this time. This low noise is made possible through meticulous design and testing. The mill can adjust logs and timber to your need. With a few controls, a log can be moved into the correct angle for cutting. The blade shaft is thicker than traditional sawmills to ensure better blade position and minimal unwanted sawblade movement. The flanges were specially designed to ensure there is minimal wobbling, resulting in a straighter cut.
Bearing are specially chosen to ensure the blade has minimal unwanted movement and to ensure a longer bearing life. Decreasing the downtime for a sawmill. The blade is guided by a hydraulic system. The slidetec sawmill can easily cut frozen and very hard wood. This system has its own built-in blade sharpening component, ensuring a quick service to the blade. An automated sizing system can be added optionally. This allows you to specify the size of planks produced by the mill.
A powerful vacuum and expelling system is incorporated into the saw system. This allows the sawdust to be managed more effectively. A saw to cut perpendicular to the grain of the wood can be added. This allows you to conveniently cut logs into the appropriate lengths. Whilst only one person is needed to operate this sawmill, a few slidetec units can be linked to result in a sawmilling plant that has a versatile production capability. The sawmill can make very small slits along logs to produce thin and accurate planks. This can be done without compromising on the yield of the sawmill. This system has some of the lowest waste in the form of sawdust. Thus the slidetec has a greater yield than traditional sawmilling plants.
The Bark cutter will remove a strip of bark from the log. This strip of bark removed is inline with the main saw blade. This is done to decrease wear on the saw blade. Bark has other harder materials in it like small stones and sand. Most bark is harder and tougher than the wood it surrounds. By removing the bark before it is cut along with the rest of the log the blade is not be dulled by the hard properties of the bark.
Enquire about this products
© 2023 Scanwood Solutions